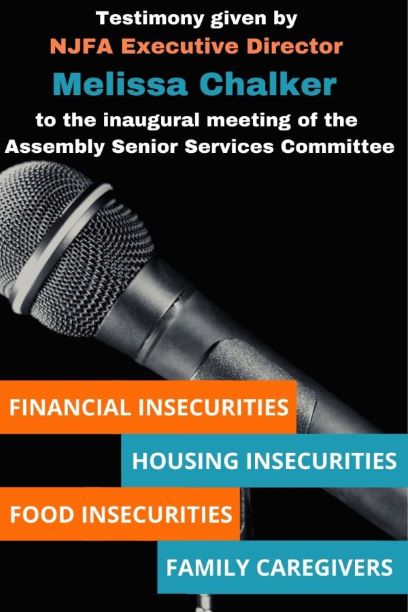 The New Jersey Foundation for Aging's Executive Director, Melissa Chalker, was invited to testify at the inaugural meeting of the Assembly Senior Services Committee on January 27, 2020. The committee includes Chair Valerie Vainieri Huttle, Vice-Chair Shanique Speight and members BettyLou DeCroce, DiAnne C. Gove, Angela V. McKnight and P. Christopher Tully. This was Melissa's testimony. To read more about the meeting, see the NJ Spotlight coverage here.
"Good afternoon, Assemblywoman Vainieri Huttle and members of the Assembly Senior Services Committee. Thank you for this opportunity to speak with you today. I am Melissa Chalker and I'm the Executive Director of the nonprofit New Jersey Foundation for Aging (NJFA).
NJFA was founded in 1998 by four County Office on Aging Directors. They wanted to create a statewide organization that would address public policy issues related to the changing and diverse needs of our growing aging population. Since then, we have worked with a wide variety of partner organizations, as well as state government officials, to enable older adults to live with independence and dignity in their communities.
Today, I would like to tell you about NJFA's advocacy priorities and present some current data related to older adults.
FINANCIAL INSECURITIES
NJFA developed the state's first Elder Index Report — a cost-of-living table — in 2009. In 2015, the NJ State Legislature passed a bill that mandated the use and updating of the report by the Dept. of Human Services — specifically the Div. of Aging Services, which I am sure my friends from the Division can tell you more about.
From the first report in 2009, through the national database update that was unveiled last week, this Elder Index data allows us to look at the cost of living for seniors in NJ, determine how many fall below the Elder Index Benchmark ($29,616 a year for a single elder renter) and focus on how they can be supported by public benefits and other programs to fill the gap.
Because of the Elder Index research, we know that 8% of New Jersey's older adults live at or below the federal poverty level. Those seniors are among our most vulnerable — both financially and medically.
Additionally, Social Security is the only source of income for 30% of older adults in New Jersey. The average annual Social Security benefit for a retired elder in NJ is $18,065. We know that number is even lower for women, plus there are many other seniors who receive far less than the average benefit. We have received calls and letters from older adults seeking help, stating that they are trying to get by on their monthly Social Security benefit of $700. After paying their rent and health care premiums, they are often left with $100 or less for groceries, co-pays and other expenses.
In addition to those seniors living below the federal poverty level, there are older adults who may be above that benchmark, but still struggling to meet all their basic needs. In fact, the most recent NJ Elder Economic Security Index indicates that more than half (54%) of New Jersey's seniors do not have the annual income needed to provide for their basic needs. This is what is referred to as New Jersey's statewide Elder Economic Insecurity Rate (EEIR). These are the older adults that we refer to as being "in the gap." That gap is having income too high to qualify for government programs, but too low to adequately cover basic expenses.
The Elder Index statistics influence much of NJFA's advocacy work, including, but not limited to, affordable and accessible homes, nutrition and food security, and access to quality healthcare. However, this data should serve as a reminder that the state must also consider older adults when discussing tax relief programs — including property taxes — and review the structure of retirement income taxes, compared to that of neighboring states.
HOUSING INSECURITIES
Ensuring that New Jersey's aging population has safe and affordable housing is also imperative. Two years ago, we convened a stakeholder group, which developed a policy recommendation report. I have provided a copy for each of you to review [see the report here].
In the 10 recommendations listed, you will see that we are suggesting increases in vouchers and units for older adults within existing housing programs. We also identified ways to streamline the process and implement incentives to provide more housing to older adults that is safe, affordable and accessible.
When we consider the housing needs of seniors, we must consider every senior — there is no one-size-fits-all for older adults. When implementing policies and programs, we need to recognize seniors with chronic health conditions and those who are facing economic insecurity.
Additionally, there are middle-income seniors who struggle to find appropriate, accessible places to live in their communities of choice, and worry about being able to afford all their retirement expenses — including the potential need for long-term care services, which can add up to $50,000 a year to their costs depending on the level of care. Along with our partners, we're engaged in discourse about age-friendly communities, particularly how social and wellness services can better be incorporated.
FOOD INSECURITIES
Much like anyone in any age category, the nutritional needs of seniors are a priority. Protecting the SNAP [Supplemental Nutrition Assistance Program] program from Federal cuts would ensure that those who rely on the program will still be able to access healthy foods. What we have learned from partners doing outreach with seniors is that often an older adult on SNAP is better able to follow a doctor's dietary guidelines because of this benefit.
One area of need, though, is finding and educating seniors who do not know about the SNAP program, or those who fear the stigma of public benefits and the stories about the difficulty in applying for the program. My friends at the Division of Aging Services can confirm that there has been under enrollment of seniors in SNAP for quite some time.
An improvement to SNAP program would be a Standardized Medical Deduction for seniors applying for SNAP, which would make it easier for seniors to take advantage of the medical deduction provision. Having one max deduction amount that all seniors could utilize would make it easier for them to apply for, and receive, SNAP.
FAMILY CAREGIVERS
The issues and struggles surrounding informal, unpaid family caregivers have been well documented. Family members provide most of the care for older adults and individuals with disabilities here in NJ. Our healthcare system will need to respond to the continued growth of the 65+ demographic over the next decade. Relying on family caregivers to fulfill all facets of care is unrealistic; but we know that it will become a necessity for many. Therefore, we need to not only look at policy changes to the healthcare system, but also the support of caregivers.
There is an urgent need to bring greater public awareness to this issue and to advocate for caregivers. Expanding access to home-based, long-term care services for NJ's older adults would provide some relief in that area. The state has done a great job increasing the number of people who receive home- and community-based services through the state's MLTSS [Managed Long Term Services and Supports] program.
Therefore, NJFA continues to participate in dialogue around the need for a policy or program to address those who fall in the gap between eligibility for Medicaid and the ability to pay privately for care.
In conclusion, there is no single answer to "how do we better serve older adults in NJ," because there isn't just one issue. Across our nation (and even the world), longevity is increasing, which is good news. However, that means that society's ageist views, which place barriers on the road to aging well, need to be dismantled now. Investing dollars into housing, nutrition and healthcare services (including those that benefit caregivers) will ensure that everyone in NJ has the opportunity to live a long and healthy life.
Thank you for your time."