As we begin to think about the start of a new year, we also get ready to show the 100th episode of Aging Insights! In honor of this major achievement, we thought we'd take a few moments to familiarize you with Aging Insights (if you're not already), and tell you a little about what's in store for Aging Insights this year and beyond. 
NJFA's mission is to provide leadership in public policy and education to enable New Jersey older adults to live with independence and dignity in their communities. And one of our primary goals is to be an information source for older adults and those who care for them to gather information that helps them live independently.
Now that you know that, you might be asking how does NJFA accomplish that?
Well, for starters, right here at this blog and on our website where we provide informative articles and links to resources.
We also aim to connect you to programs, services and trending issues through our TV program, Aging Insights. Never heard of it? Hop on over to NJFA's YouTube channel (after you finish reading this blog of course!). The show can also be seen on over 70 municipal based TV stations across our state, if your town isn't airing the show- call and ask them about it.
Aging Insights began as Aging Today and was originally a production of the Middlesex County Department of Aging and was hosted by their former Executive Director Peg Chester (Peg is also a Founding Trustee of NJFA).  NJFA took over production of the show in October 2011 and renamed it Aging Insights. Expanding the focus to a statewide audience.
We are about to celebrate an amazing milestone.  Aging Insights' 100th episode will air in January of 2020. The episode will feature clips from previous shows and commentary from staff, board members and partners. We hope you'll join us in celebrating, but also stick around for more- as we are not done yet! We will continue to produce Aging Insights and bring you, our audience more interviews with leaders across our state, more important updates on Medicare, more details about helpful programs like SNAP, PAAD and more. So, won't you keep watching?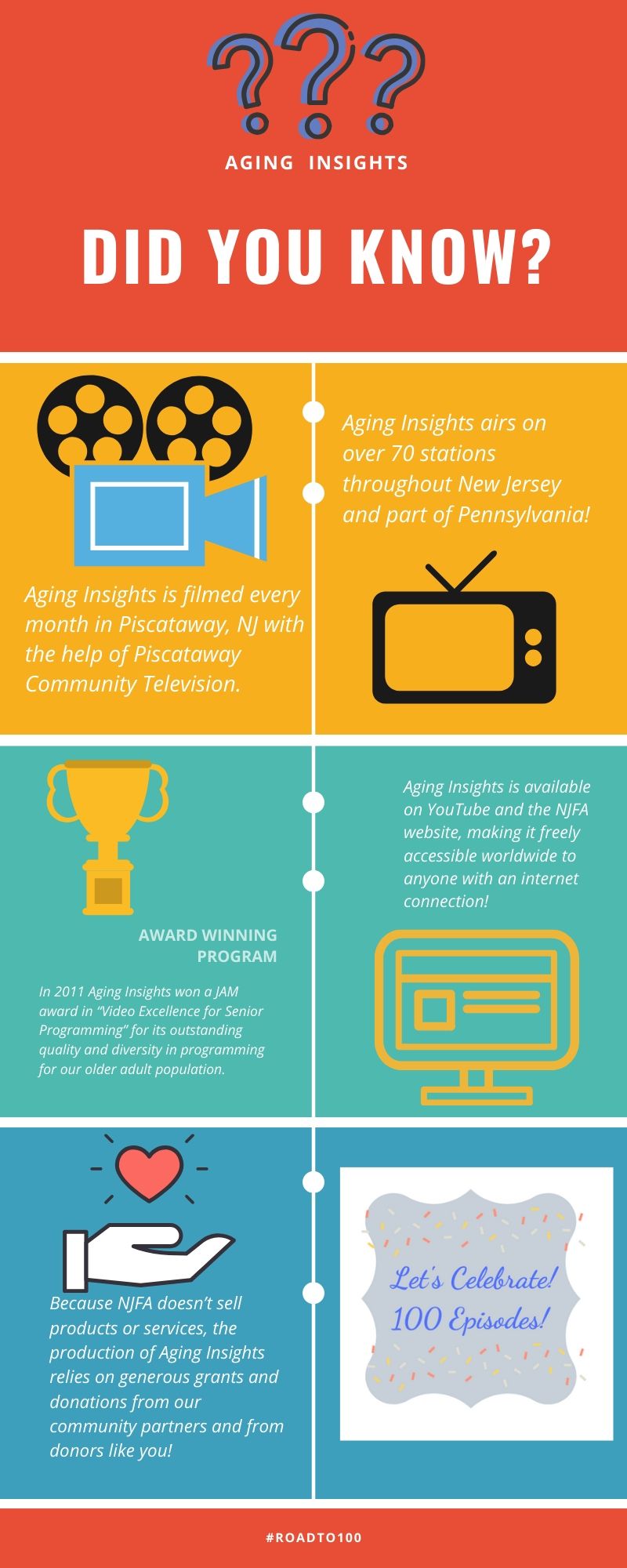 Finally, we want to remind you that Aging Insights is brought to you by sponsorships and donations. If you are able to donate, please visit our website or mail your gift to NJFA 145 W. Hanover St. Trenton, NJ 08618.