by Mason Crane-Bolton
It's a new year and that means a new start! After all the hustle and bustle of the holiday season (and the inevitable clutter for so many of us), now is the perfect time to do a bit of "spring" cleaning. We have some excellent tips for a good cleaning and de-cluttering, and some excellent reasons why you should toss out that old box of knick-knacks and pull out your clothes from seasons past!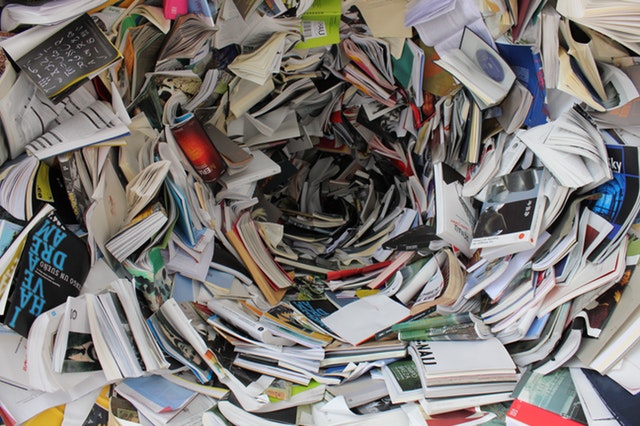 Easy things to get rid of:
Obsolete Technology: If you aren't using your computer from 1994, you aren't going to start using it now, and it's unlikely you'll ever watch a VHS tape again. Some items may be of interest to specialized collectors or electronics tinkerers, but if you aren't one (or if you are but still haven't touched that "project piece") now if the time to get rid of it. Do your research with each gadget: If you think it might be of value or interest to someone research local groups and stores who might want it; but most obsolete tech is best recycled—look at electronics recycling in your area, which often has special restrictions.
Clothes You Haven't Worn: Maybe it was a gift. Maybe you got it at a great price. Maybe it was your style a few years ago. For whatever reason, you never wore it and now it's sitting at the back of your closet, looking a little sad and forlorn. Luckily there are lots of ways to get rid of excess clothing. If you're looking to make a few dollars, try a yard/garage sale, consignment shop, or flea market. If you'd like to just get the clothing off your hands, try donating to shelters, dropping it off in clothing donation bins, donating to thrift stores or seeing what organizations in your area accept clothing donations.
Clothes That Need to Be Tossed: If you have old clothes/shoes that are too worn to be reused or can't be (i.e. underwear and broken shoes) look for special drop boxes or organizations that take textiles as well as clothing donations. Planet Aid (recognizable by their bright yellow drop boxes) accepts socks and underwear, shoes and clothing in all conditions as long as it's dry and clean.
Books: Books are a wonderful thing to have, but too many books can quickly be a heavy burden. Literally. Keep a few favorites you'll read again and again and donate or sell the rest. Borrow future books from the library.
Old Prescriptions and Medical Devices: If you aren't using it, you don't need it. Although it can be hard to give away medical devices we think we might, one day, need, if they're creating clutter it's time to get rid of them. Fortunately you can donate your medical devices to someone in need through local and national groups, such as specific Goodwill locations (http://www.goodwill.org/donate-and-shop/donate-stuff/) and other nonprofit organizations. Contact organizations first to make sure they can take your donation if you have any questions.
Prescription medicines should be responsibly disposed at approved locations. Many drug stores now have anonymous prescription disposal boxes as do many police stations. You can go to The American Medicine Chest Challenge website (http://americanmedicinechest.org/) to type in your zip code and find drop off locations in your area.
Food: Go through your pantry and look for expired food items and things you're unlikely to eat. Throw away the expired food items (this is different than a "best by" date, which indicates staleness) and donate any unwanted (non-expired or non-perishable) items to a local food bank.
Harder things to let go:
Knick-knacks: Many of us have lots of sentimental objects we'Äôve picked up over the years. Some might be very meaningful and important to us, but most are probably something we can do without. Go through your knick-knacks (souvenirs from vacations, past gifts, old d?©cor); keep a few with the most meaning and decide what to do with the rest. Some options for letting go of knick-knacks are to donate the rest to a thrift store or sell at a garage sale or flea market, or to pass it down to a family member'Äîthis last option can be a great gift not only of an object, but of the memories and stories you have to go with it.
Old Cards and Photos: A lifetime of greeting cards and photographs can really add up when it comes to clutter. Just like with knick-knacks, sort through your greeting cards and choose the ones that mean most to you and recycle the rest—letting go of the cards doesn't mean you're letting go of the person who wrote them.
Photographs are often the trickiest and hardest thing to get rid of. Instead of trying to sort through which ones mean most to you, first go through your physical photos and get rid of the bad ones—blurry ones, ones with flash spots, over-exposed, ones you can't remember why you took it etc. Display your favorites, the ones that give you joy. Depending on how many photos you have, store the rest or ask a friend or family member for help sorting through the rest and deciding which ones, if any, to let go. Consider digitizing your physical photos and keeping them on flash drives, rewritable CDs/DVDs, or an external hard drive. Several companies offer this service for a fee, but you can also do this at home if you or a friend have the right equipment. Then you can decide whether to discard your physical photos or keep your digital ones as a backup. You can even use a digital photo frame, which can rotate through several images so you can display more of your favorite moments.
Important Papers: This one is time consuming, but straight forward. Sort through your important papers and determine which ones you need to keep. Keep essential documents (current insurance policies, deeds, warranties, birth/marriage/death certificates, etc.) in a safe place and consider scanning a copy for backup—don't keep this copy your computer but rather on a flash or external hard drive. Shred documents you no longer need (old bank statements and bills, expired insurance policies or copies with old information, etc.). Sign up for electronic mailings where possible to avoid future clutter—as an added bonus, some companies offer small discounts for choosing e-mail notifications over paper, plus you'll be helping the planet.
There are lots of other things you may need to sort through depending on your individual situation. It may be things long acquired over the years, or things that have come into your life more recently. Whatever the reason, getting excess clutter out of your home is not only healthy, but necessary.
Getting rid of clutter:
Removes trip hazards and decreases your risk of falling in your home
Keeps your home cleaner and reduces the amount of health-hazardous dust
Makes organization of important information better and makes it easier to find favorite treasures
Creates a brighter, more attractive living space, which will uplift your mood
Helps pave the way for accumulating less clutter in the future
Improves stress, motivation, and happiness—decluttering can be extremely therapeutic
We hope you have a Happy New Year and reap all the benefits of a good, long decluttering season!